Check Out How Drake Consoled Demar DeRozan, After Being Suddenly Traded From The Raptors.
DeMar DeRozan was not happy about the trade that sent him from the Toronto Raptors to the San Antonio Spurs for Kawhi Leonard.
In the aftermath of the trade, however, DeRozan found comfort from an unlikely source — Drake.

In an interview with ESPN's Chris Haynes , DeRozan opened up about the trade, saying that after the deal went through, he actually went to Drake's house. According to DeRozan, Drake, a team ambassador for the Raptors, consoled DeRozan.

"Yeah, day it came out, I went to Drake's house," DeRozan said. "Me and him sat and talked for a couple of hours. Not even on some hoops stuff. Just to hear the words that come from him being the person that he is in this world, especially in Toronto. What I meant to this city. It was what I needed."

When the deal went through, Drake even posted an Instagram tribute to DeRozan.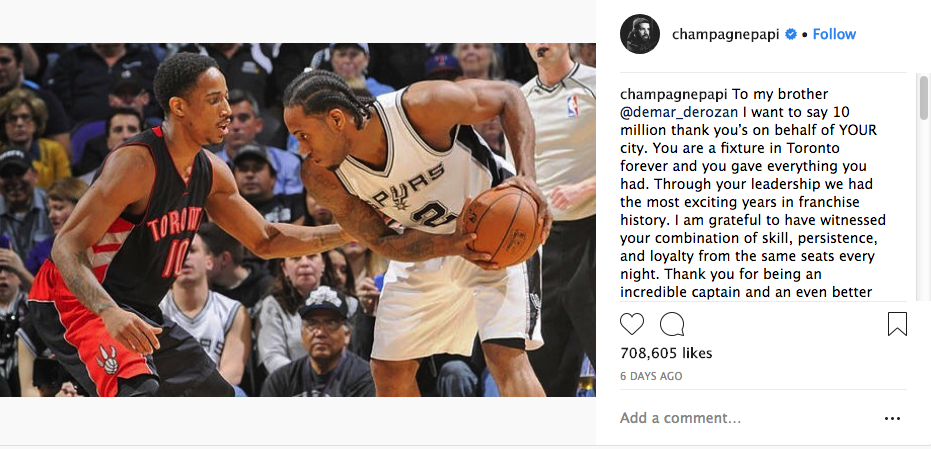 DeRozan had spent his entire career with the Raptors, becoming the face of the franchise and a perennial All-Star. He told Haynes that he was most upset by not getting any warning that a trade was coming. In fact, DeRozan said he had been told by team president Masai Ujiri that he wouldn't be traded.

"Whether it's something I like or don't like, I'm going to accept it if you come to me and let me know beforehand," DeRozan said. "But don't make one thing seem like another thing and catch me off-guard and do something else. That was my whole problem. I understand how the game works, how the business works. My mindset was that I was always going to be in Toronto my whole career, but I was never naive. Just let me know. That's where my frustration came from."
By: businessinsider.com