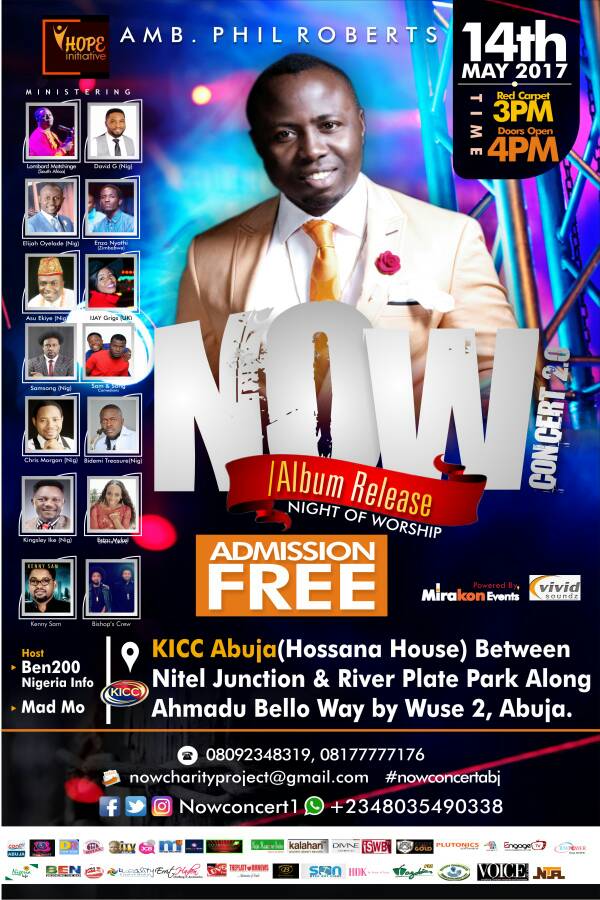 Amb.Phil Roberts Commissions Now Concerts 2.0 and Album Release Concert
Every year a mandate to bring together people from different works of life, denomination took the centre stage when NOW Concert was birthed.
Now concert is a gathering of Ernest worshippers who worship is without boundary, denominational inclination but moment to intimacy with the creator.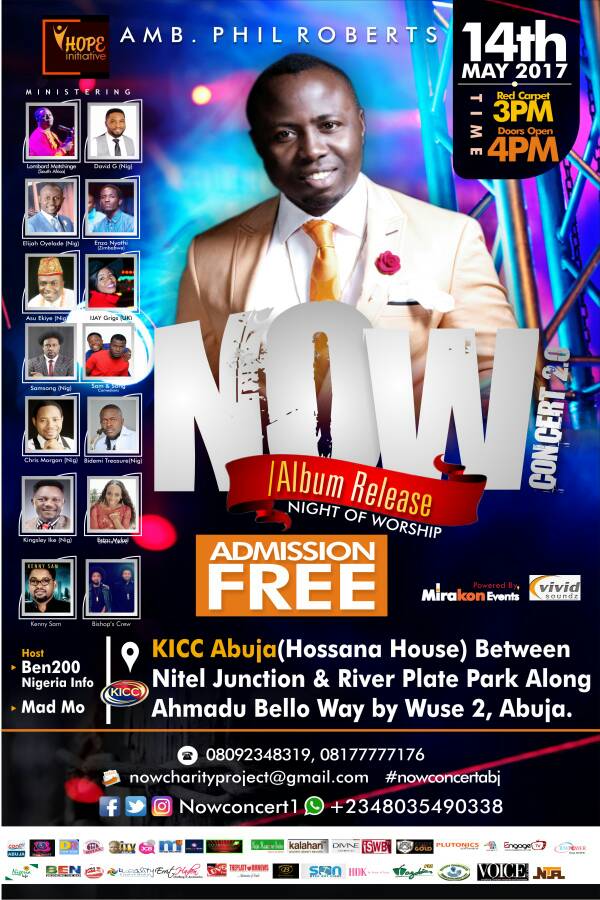 Fulfilling the greatest yearning of the creator to have a closer and intimate relationship with the almighty God.
NOW concert is poised to establish this link with an array of music ministers from UK, USA, South Africa, Sierra Leone joining their counterparts in Nigeria like Samsong, Chris Morgan, Pstr David G,Elijah Oyelade and lots more.
This year, NOW Concert will kick off with a mini concert with orphans at the orphanage home. Last year we built an orphanage home housing over 23 kids in Abuja.
The International edition of NOW Concert will also mark the official release of two albums by the host of the world acclaimed event Amb. Phil Roberts.
NOW Concert 2017 will hold on the 14th of May at KICC Worahuo auditorium, hosanna house Abuja and entry is absolutely free. This project will also showcase some of our young music acts as we will give them a platform to express their gifts and be a blessing to the world. Now concert 2017 will also be streamed live for our fans all over the world to watch and also worship with us in a thick atmosphere of God's presence as we are sure of several miracles and testimonies on that day. Last year a lot of testimonies where recorded with people giving their lives to Christ as it was the climax of while event.
We want to also announce to you that we already have some VIP gifts from our partners that will be given out for free at the event as we will be giving out some make up kits, diffusers, spar products and many more from our partners in South Africa.
At this juncture, we want to say a big thank you to all of you for your support and for also joining us in this press conference as we look forward to having you on the 14th of may 3pm live at KICC worship auditorium hosanna house by nicon junction wise 2 Abuja.
www.mrphilroberts.com
Facebook: Mr Phil Roberts
Twitter: @philroberts4u
Instagram: philroberts4u
Management: +2348092348319?
YouTube channel: http://www.youtube.com/philroberts4u