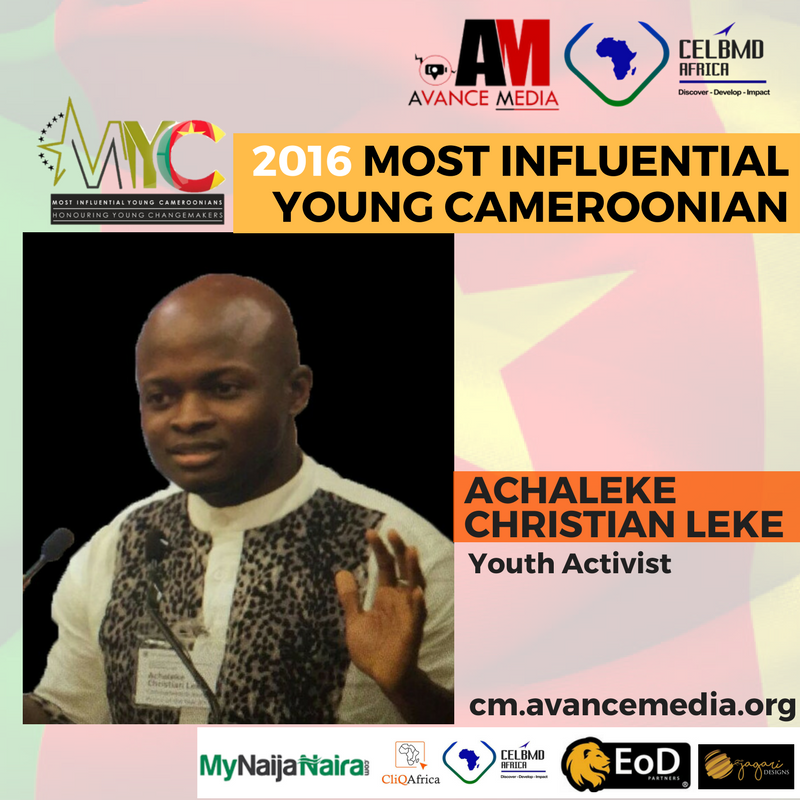 Achaleke Christian Leke Voted 2016 Most Influential Young Cameroonian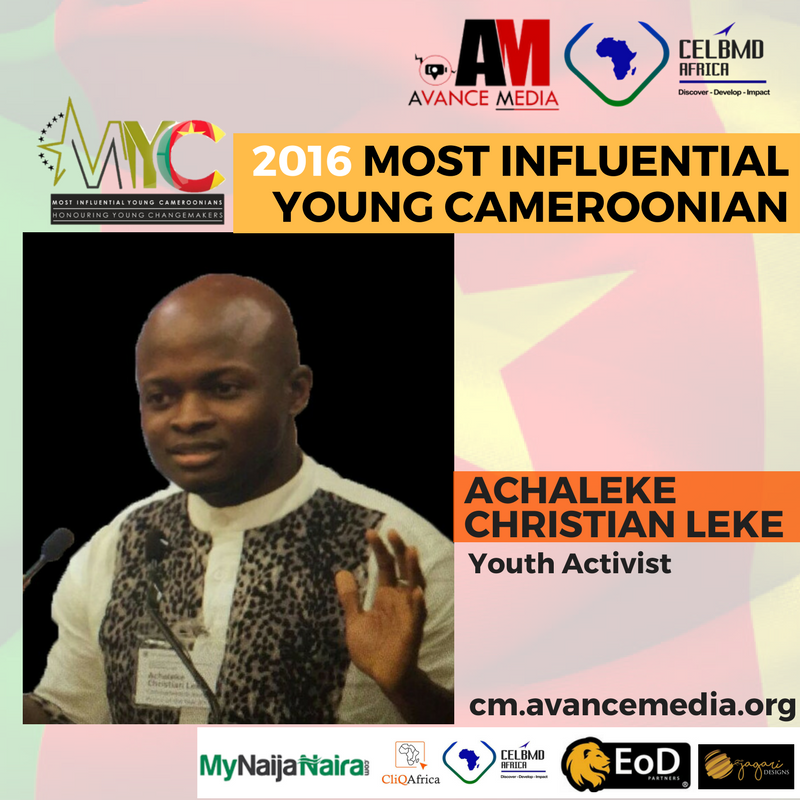 Youth civil society activist and peace advocate, Achaleke Christian Leke has been voted the 2016 Most Influential Young Cameroonian in a ranking poll organized by reputed rating establishment, Avance Media & CELBMD Africa.
Achaleke, who was a victim of radicalization and violence, transformed himself to become an ambassador of peace and change currently with international reputation. His youth peace building training manual and video documentary has also empowered thousands of young people both in Cameroon and abroad.
Public votes which drew participation from over 110 countries across the world also endorsed Arthur Zang, Mambe Churchill Nanje, Alain Nteff and Etta Rita among the top 5 young Cameroonians who have built impact across the Cameroon and beyond.
Etta Rita, a young lawyer who also works with NGOs in empowering young people across Cameroon also got voted the most influential young female personality.
Below are the Young Cameroonians voted for as the Most Influential in their respective categories:
Business – Gwendolyne Halle, (CEO of Health and Medical Empire)
Entertainment – Magasco, (Musician)
Leadership & Civil Society – Achaleke Christian Leke (Youth Activist)
Lifestyle – Kibonen Nfi (CEO, Kibonen NY)
Media – Ludovic Biyong (CEO, Camernews)
Personal Development & Academia – Etta Rita (Lawyer & Speaker)
Science & Technology – Arthur Zang (CEO, CEO, Himore Medical Equipments)
Social Enterprise & Philanthropy – Alain Nteff (CEO, Gifted Mom)
Sports – Clinton Njie (Olympique de Marseille)
MD of Avance Media, Prince Akpah extended his appreciation to all who participated in the polling process and encouraged young Cameroonians to take a clue from the lifestyle and inspiration stories of these young achievers who are defining youthfulness in Cameroon and beyond.
COO of the rankings, Javnyuy Joybert shared: This ranking and award is one of a kind in Cameroon which is an amazing encouragement platform for outstanding young Cameroonians who have dedicated their time, resources and creativity to take this country to the next level.
Below is the Official 2016 Ranking of 50 Most Influential Young Cameroonians
Achaleke Christian Leke
Arthur Zang
Mambe Churchill Nanje
Alain Nteff
Etta Rita
Ludovic Biyong
Charles Ebune
Gwendolyne Halle
Magasco
10.  Nsang Dilong
11.  Mark Bareta
12.  Otto Akama
13.  Jovi
14.  Kibonen Nfi
15.  Sahndra Fon Dufe
16.  Stanley Enow
17.  Ivo Arrey Mbongaya
18.  Bandy Kiki
19.  Roland Fomundam
20.  Ornella de Vinyle Nzouegou
21.  Valery Ayena
22.  Bony Dashaco
23.  Ndansi Elvis Nukam
24.  Nkwain John-Paul Sam
25.  Njie Clinton
26.  Gaëlle Enganamouit
27.  Eric Akoa
28.  Fabrice Ondoa
29.  Nadege Yoko
30.  Charlie Wandji
31.  Njotu Denzel
32.  Eteki Stella Dopigma
33.  Okawa Shazney
34.  Christian Ngan
35.  Madelle Mbong Kangha
36.  Bertheline Nina Tchangoue
37.  Eric Maxim Choupo-Moting
38.  Madiba Olivier
39.  Ingrid Etoke
40.  Jacques Jonathan Nyemb
41.  Pam Happi
42.  Mamadou Toure
43.  Fabrice Alomo
44.  Peter Nguafac Temate Fongeh
45.  Bibaa Lundi Anne
46.  Wax Dey
47.  Calvino Wallang
48.  Patrick Mandengue
49.  Vincent Aboubakar
50.  Tonjé Bakang T.
The 50 Most Influential Young Cameroonians ranking is an initiative of Avance Media & CELBMD Africa in partnership with www.reputationpoll.com, EOD Partners, Jagari Designs, My Naija Naira, Dream Ambassadors Foundation GH, iCare Hub Africa, Global Skills Exchange, Core Foundation and Project Know Thyself International.