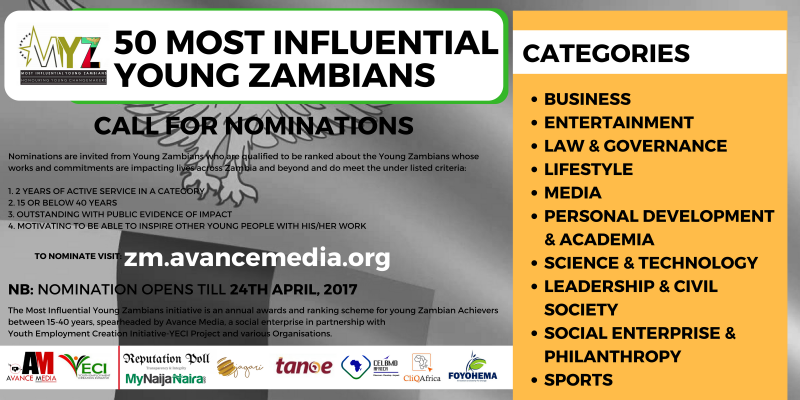 Nomination Opens for 2017 50 Most Influential Young Zambian Ranking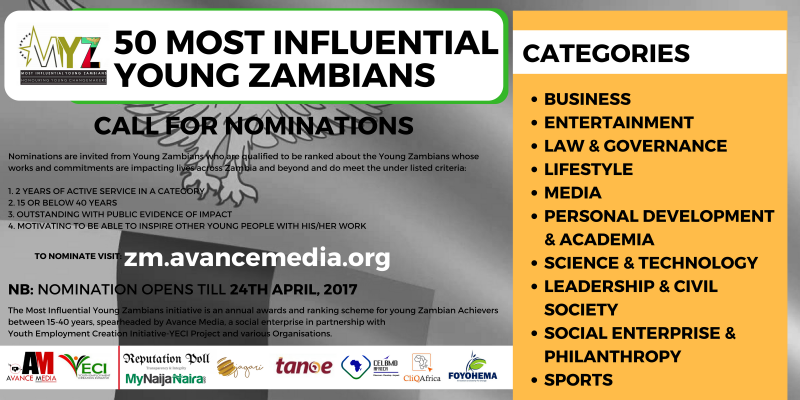 Africa's leading Rating, Media and PR firm, Avance Media and Youth Employment Creation Initiative-YECI Project, Zambia has launched the search for 2017's 50 Most Influential Young Zambians, an initiative which is highlighted to become the most comprehensive ranking for young people in Zambia.
The initiative which will rank and honour young people in Zambia and beyond will this year have various young people in diverse industries being recognised for what they have done to contribute to the economy and development of Zambia.
Public nominations which last till 24th April, can be submitted through zm.avancemedia.org and will be screen by a board of jury from Zambia preceding the announcement of the 50 finalists who will go through a voting process to determine the overall Most Influential Young Zambian.
Reviewed categories opened for nomination include Business, Entertainment, Law & Governance, Lifestyle, Media, Personal Development & Academia, Science & Technology, Leadership & Civil Society, Social Enterprise & Philanthropy and Sports.
The program has also drawn partnership from www.reputationpoll.com, The African Network of Entrepreneurs, Jagari Designs, CELMBD, My Naija Naira, CliQAfrica, Dream Ambassadors Foundation GH, iCare Hub Africa, Global Skills Exchange, Core Foundation and Foundation for Youth Health and Malishamba(FOYOHEMA).
This initiative is meant to serve as a source of inspiration to young people around the world as annually, 100 & 50 young people will be selected as the most influential young people affecting decision-making in their respective countries.
More information can be accessed on through www.avancemedia.org, md@avancemedia.org & avancemedia1@gmail.com.