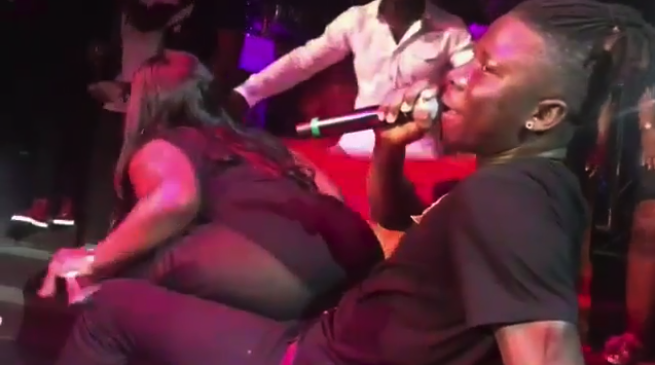 Stonebwoy surprises Ghanaians with a video of him playing with a woman's 'Tundra'
Stonebwoy surprises Ghanaians with a video of him playing with a woman's 'Tundra'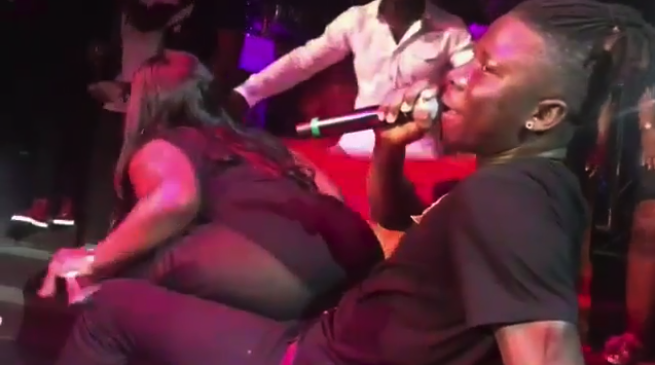 Stonebwoy a Dancehall Star, enjoying the massive behind of another woman during a performance. The video is said to be shot in Europe, where Stonebwoy was performing to a crowd as part of his worldwide tour. In the video, the lady, who has a huge behind and was reportedly performing with Stonebwoy was dancing and shaking her body briefly on top of the singer.
But as she got up to leave, Stonebwoy went down, signaling her to come back and continue with that she was doing. The lady then returned to shake her body all over Stonebowy again. After some seconds, they go up, and Stonebwoy, obviously forgetting his lyrics, started murmuring his song. The lady came back again to him, but this time just for a hug, and this got the gathering clapping.
Just then Stonebwoy found his voice again and started singing his old popular song 'Baafira', as if to say that he had seen many heavy 'Tundras' than what he just experienced.
The video has garnered massive reactions from his fans and followers on Instagram.
Read some of the comments here:
Nharnah Ahdjoa believes Stonebwoy has been pretending to be a good person all this while.
nharnah_ahdjoa_adepa: "Wontumi nfa wo suban nsie da [meaning you can never hide your true character]!!!!Many people think he's an angel."
Namoi wondered how Ghanaians would have criticized Shatta Wale if he had done what Stonebwoy did.
(tattinamoi: Me di33 am.passing anka shatta do it aaah by now it all over on the internet.")
Richard was thinking of Stonebwoy's wife.(richagyei: "Dr Louisa kafra.[meaning sorry]")
Glamourous hair wondered why Stonebwoy would do that. (glamorous_hair_u.s.a.6924: "Awww honey why ,my heart is broken.")
Shanti wondered if Ghanaian celebrities get counseled before getting married. (shanti_babyansaa: "Do celebs go for counselling at all.")
Ayeaku simply believes Stonebwoy has disrespected his wife with that action (__.ayeaku@god_got_mhe: "he puts food on the table by performing yes...but not letting girls grind you like this.... it's very very disrespectful ... it's not right dancing eroctically with a girl like that." )
Stonebwoy is currently embarking on a worldwide music tour. He has mainly been in the news for having issues with Shatta Wale. However, it has been said many times by entertainment enthusiasts that Stonebwoy can never compare himself with Shatta Wale.
Source : yen.com.gh