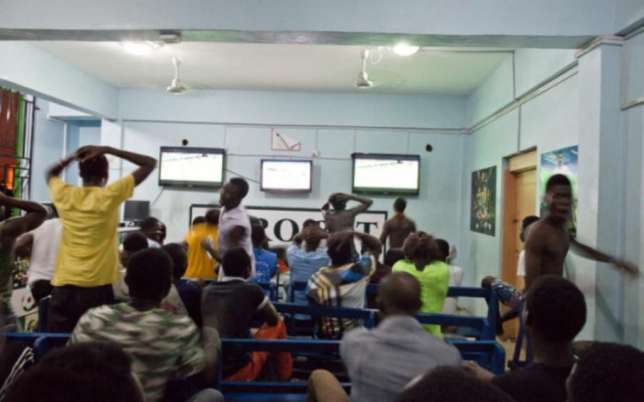 Man loses GHc10K bet after Croatia's loss to France

France's victory in the 2018 World Cup came as welcoming news to many Ghanaians, however, it was not as receptive for some gamblers in the country.
For one gambler who put his GHc10,000 on a Croatia win, it turned out to be a bad day and an even worse investment following the completion of the game.
The French national team made themselves and their nation proud by defeating Croatia 4-2, in what was a keenly contested final.
An own goal from Mario Mandzukic, sandwiched by goals from Antoine Griezmann, Paul Pogba and Kylian Mbappe were enough to win France their second World Cup title.
However, it was not only the Croatians who mourned the result, as a Ghanaian gambler also lost big time after placing a GHc10,000 bet on a Croatia win.
Although the said man is currently unknown, his bet slip – staked at Soccabet – has gone viral on social media following the World Cup final game.
Had Croatia managed to win or even drawn the game, he would have walked away with GHc9,200 in addition to the GHc10,000 he staked.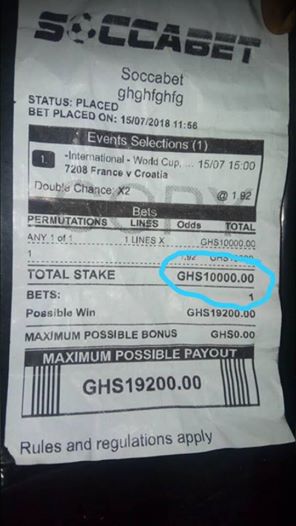 Unfortunately, though, things didn't turn out in his way and he lost the bet, meaning his GHc10,000 cash is also now gone.
Football can sometimes be cruel, but betting can….. well….bring much more heartbreak.
Source: Pulse Ghana