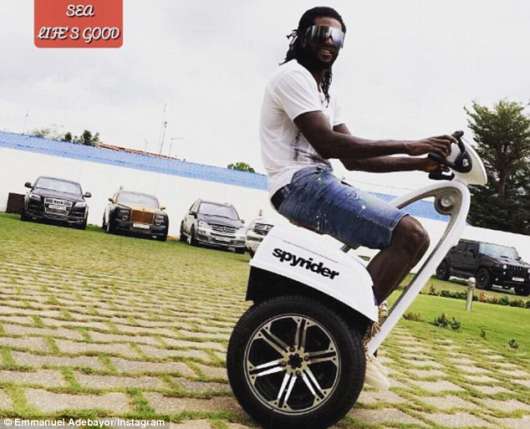 Photo : Emmanuel Adebayor enjoys a ride on £18,000 Can-Am Spyder trike
Adebayor has unveiled stunning new motor... an £18,000 Can-Am Spyder trike
Players from clubs throughout the Premier League returned from their summer holidays on Monday to begin gruelling pre-season schedules ahead of the new season.
But for one former star of English football, the time to have fun off the pitch is not over quite yet.
And Emmanuel Adebayor, who currently plays for Turkish side Istanbul Basaksehir, is making the most of it by enjoying a ride on a futuristic £18,000 Can-Am Spyder trike.
'Team Adebayor' posted a photo on their Instragram page of the 33-year-old on the white three-wheeled vehicle with the caption: 'Have a good start to the week everybody.'
The striker seems to like his quirky methods of transport. He boasts an impressive car collection and has previously uploaded photos of him riding a SpyRider two-wheeled transporter. On Monday he was sat on a 2016 Spyder RT, which starts from $23,449 (£18,109) and boasts 115 horsepower and torque of 130Nm.