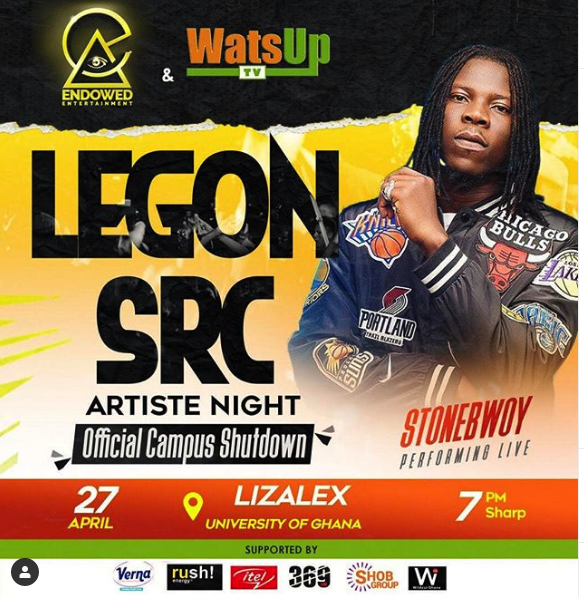 WatsUp TV And Endowed Ent Pressent University Of Ghana Legon SRC Artiste Night With Stone Bowy
Written by: @boytraore224
Who says education means the youth and who says the youth means great energy and who talk about youth energy means great entertainment.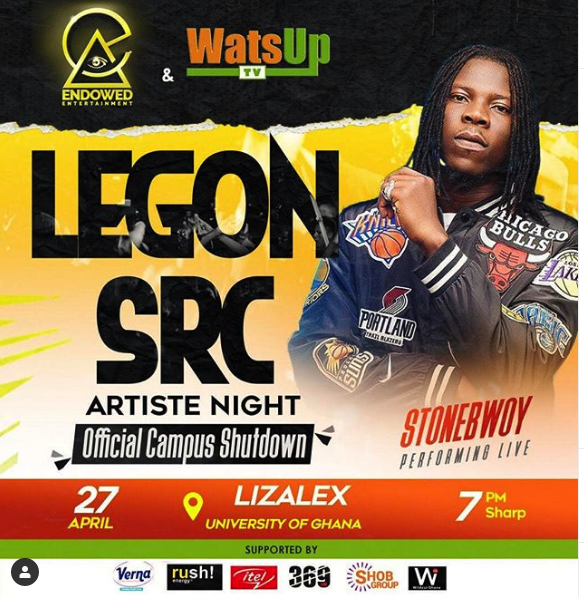 For that reason in the power of socializing and entertaining the students in Ghana, your favorite pan-African TV show WatsUp TV and Endowed Ent are coming again inside University of Ghana Legon this Saturday 27th April 2019 to get you on fire for the University of Ghana SRC Arstiste Night.
Like we did last month for the WatsUp TV 67 Legon hall Week Celebration, by bringing you the great artistes like Shatta Wale, S3Fa, Sista Afia, Kwamz and Flavor, lord Paper and more for great performances.
This month with the SRC Artiste Night, we are bringing to you one of Ghana finest and multiple award winner to light up the Legon campus for you, and is no one other than the BET Award winner, the 2019 Nickeledeon Kids Choice Favorite African Artiste winner, the Bhim Nation President the great stone himself AkA Stone Bwoy performing live at Lizalex 7PM sharp.
So Legon campus get ready this Saturday 27th April to make your weekend lit, because University of Ghana gonna be the place to be in Accra that night. Get the date marked and see you there.
WatsUp TV it's our time.