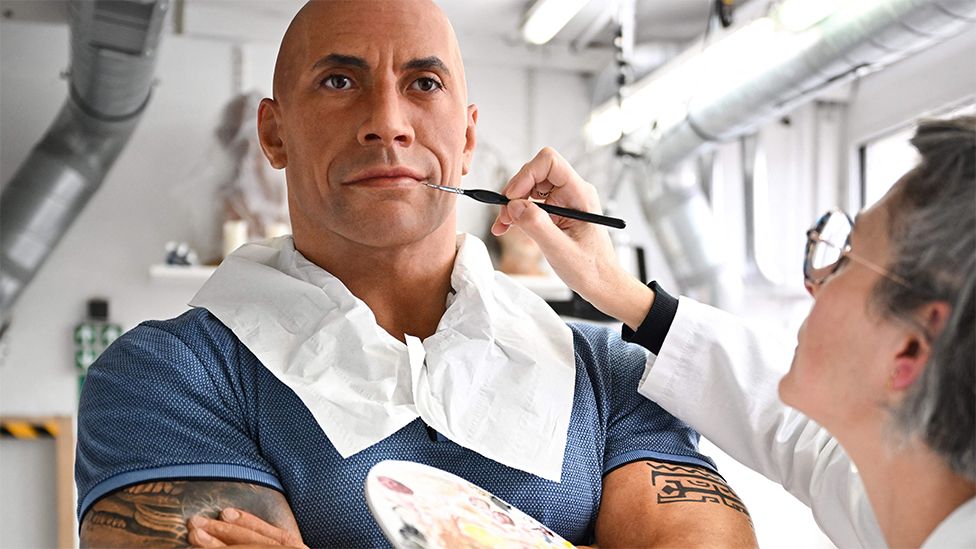 The Rock waxwork museum makes skin tone fix after criticism
A French museum says it has fixed a waxwork of Dwayne "The Rock" Johnson after he complained about it.
The Grevin Museum in Paris proudly revealed the life-sized figure of the wrestler-turned-actor earlier this month and got a wave of criticism back.
One of the biggest was over the model's skin tone, with fans accusing the creator of "whitewashing" the star, who has dual heritage.
After The Rock joined the pile-on, museum bosses vowed to "rework" it.
He called on them to update the model "with some important details, starting with my skin colour".
The Grevin Museum has since accepted that The Rock's comments were correct and said staff had worked overnight to "remedy the skin tone" of the wax figure.
Museum director Yves Delhommeau initially blamed the model's skin tone on a "lighting issue" and said it would be addressed.
He added that The Rock would visit the museum "later on to see if there are other modifications that need to be made".
The museum unveiled the wax figure in Paris on 16 October and said artist Stéphane Barret had to rely on photos and videos to create the sculpture.
In a press release, it said the "painstaking" work included redoing the model's eyes three times.
The Rock was born in California to a black Nova Scotian father and Samoan mother.