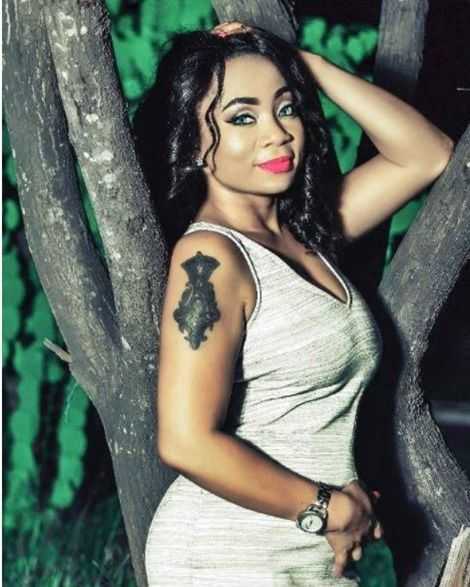 I'm Giving Up On Tattoos - Vicky Zugah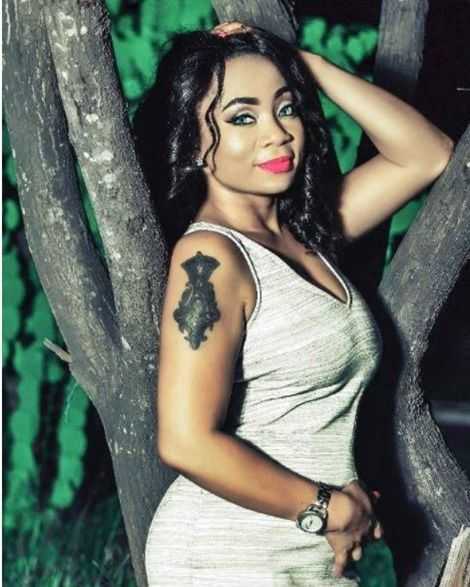 Life has a way of changing people, especially as they age and become mature. That maturity is often displayed in them doing away with certain practices and for actress Vicky Zugah, what she is giving up on is tattoos.
Vicky Zugah is one of the few female celebrities into tattoos and currently has three; a crucifix, a dove and stars and was working on the fourth one but she has decided to say no to more body ink.
In a chat with Showbiz, she said, "you see, some years ago, I would have wanted more tattoos but after my second child, I decided to give up to the extent that, I did not even finish the last tattoo I got.
"I was still working on it and was supposed to have gone back to finish it but I said, it's ok, I lose nothing if I don't go.
"I am not getting any younger, I am currently in my mid-thirties and I have children and all so this whole tattoo thing will not work for me anymore," said the mother of two who is also celebrating the three-year anniversary of God delivering her from an accident that almost took her life.
When asked if her decision was influenced by society pressure Vicky Zugah answered, "no I did not give up tattoos because of what people have said, in fact, if anyone or someone has said anything, then I have not heard but it's a personal decision.
"I have had these tattoos for more than 10 years so I lose nothing if I put that part of my life behind me. We are growing and once we have life to right some wrongs, let's just take advantage of it.
After coming out to speak about the abuse she suffered in some of her relationships, Vicky Zugah started a campaign to empower women to leave abusive relationships and as laudable as the initiative is, she has had to put it on hold.
"It is on break currently because of financial issues. It is not easy when the support is not coming so I have put it on hold but that does not mean that is the end. From time to time, I get to grace occasions and give talks," she stated.
"It is a big issue and we have more work to do as a people and as a nation. From my experience and that of others, one thing that stands out is that the victims are scared to come out so the help they need does not come," Vicky added.
As someone who nearly gave up on the movie industry, Vicky Zugah expressed excitement that it is gradually getting back on its feet.
"I am glad that gradually we are getting there. I have been on location shooting movies for the past three months and that is a good thing."
Vicky used the opportunity to thank God, friends and family who stood by her when she was involved in the accident that nearly saw her lose an eye.
"I thank God for everything, if not for Him, I would not be here. Three years ago, I was battling for my life and today I am here, to friends who stood by me and helped me out, God bless you all," she said.
Vicky Zugah has movies like Girls Connection, Agatha, Who Knows Tomorrow and Pretty Queen to her credit.
Source: Peacefm Online