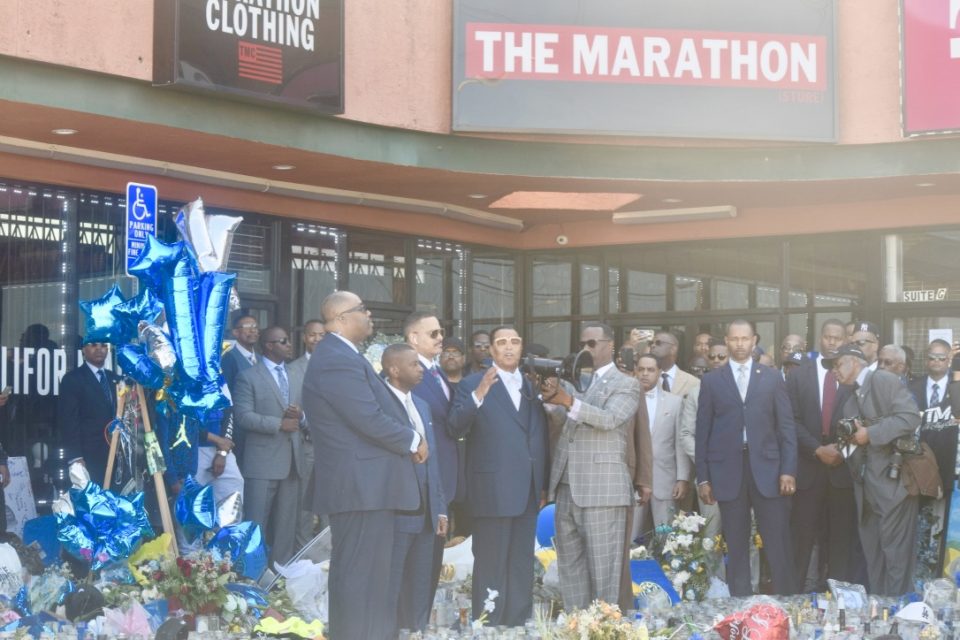 Crenshaw community reacts to Louis Farrakhan's speech at Nipsey Hussle's store
You could hear a pin drop as people waited for Minister Louis Farrakhan to speak.
Ten minutes earlier, a motorcade of Black SUVs pulled into the parking lot of Nipsey Hussle'sMarathon Clothing store. Surrounded by his most trusted protectors, Farrakhan delivered a powerful speech in honor of Nipsey Hussle.
"Everyone that was slaughtered on the streets of Los Angeles did not die in vain. So many have died. We are sick and tired of burying our great men and women. It's over and it has got to be put to rest so that our nation may rise again," Farrakhan said.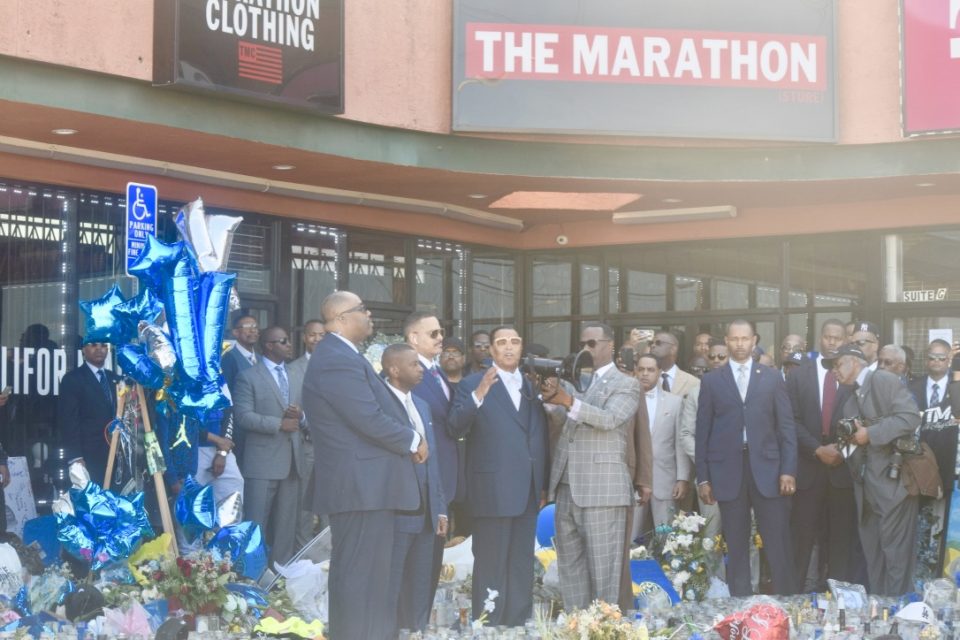 Minister Louis Farrakhan pays respects to Nipsey Hussle in front of The Marathon Clothing store. (Photo by Slauson Girl)
It has been nearly two weeks since Nipsey Hussle was shot and killed in the same spot where Farrakhan was now delivering his speech. The alleged shooter, 29-year-old Eric Holder, was arrested while trying to check into a mental facility two days after the shooting.
Nipsey Hussle, 33, born Ermias Asghedom, is a Grammy-nominated rapper and self-made businessman. He is well-known around his community for having a deep love and affinity for the neighborhood he grew up in. His street smarts, intertwined with understanding the conditions of the world around him, led Hussle to invest in various businesses around South L.A.
He created opportunities for people from his area and gave hope to those who were seemingly hopeless. A few months before Hussle's death, he and his business partners purchased the property where he was shot and killed.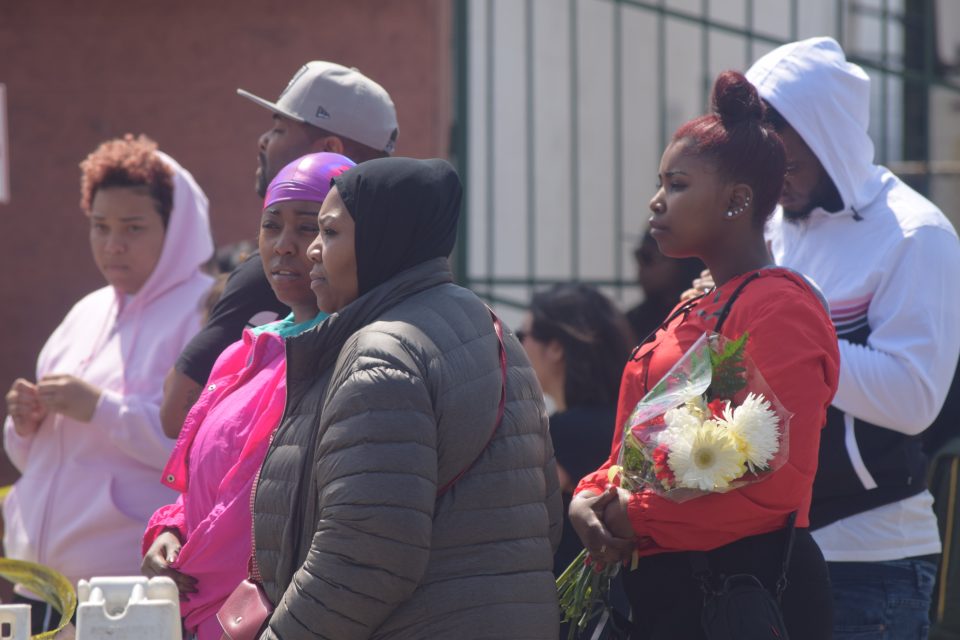 Fans have gathered at The Marathon store every day since Nipsey Hussle's death. (Photo by Slauson Girl)
Asia York, a native of the Crenshaw community, said that Nipsey Hussle's murder brings up a lot of old wounds.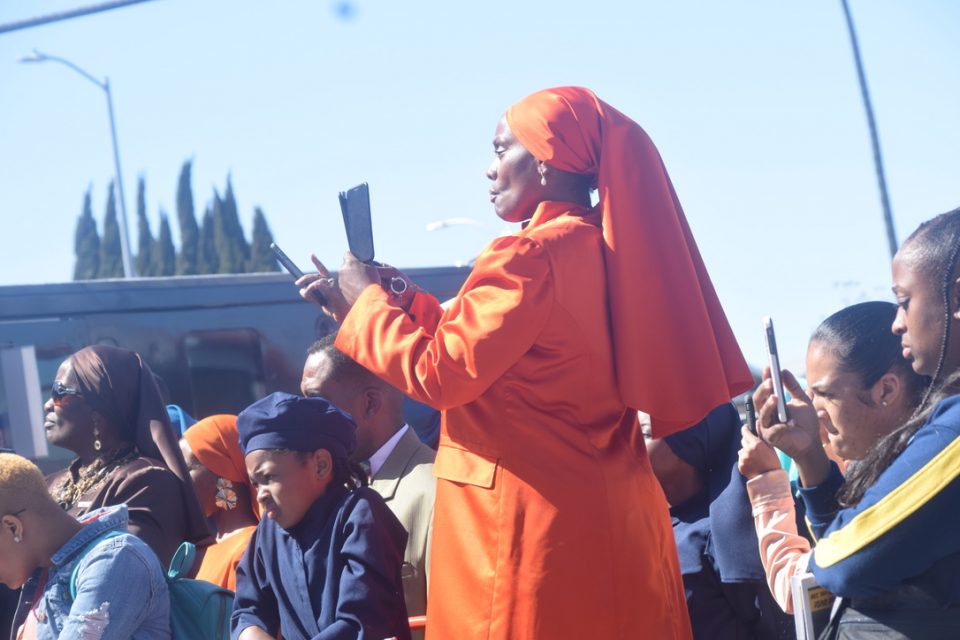 She watched Farrakhan give his speech in front of The Marathon store and said his words made her reflect on some of the choices she has made in her life.
"For me to be here, it's like a baptism in tears that I'm about to endure," York said. "My heart goes out to all the Black men who lost their lives; all the silenced baby boys. For Nipsey to go, my heart is broken. Louis Farrakhan, I've watched him throughout my life and I believe his words."
Gangs and gun violence continue to plague inner cities across the U.S. and although Nipsey Hussle was a beloved rapper whose legacy goes far beyond music, his death follows an all too familiar reality for Black men in America.
Nova is a Compton resident who says that Farrakhan's presence and speech were necessary for the community.
"We needed to hear this," Nova said. "This is what they don't want. The gangs are already coming together. Farrakhan coming out here really just put the nail in the coffin."
Source: rollinout.com